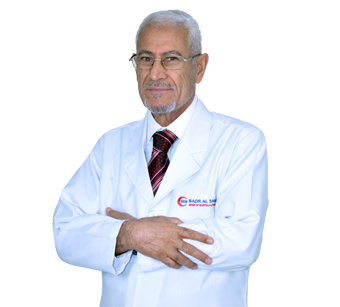 DR Abdul Hadi Abbas Rishan
Specialist psychiatrist
Psychiatry
MBCHB, Diploma in Psychiatry (Austria)
39 years of experience
Al Khuwair (Oman)
About DR Abdul Hadi Abbas Rishan
Dr Abdul Hadi Abbas Rishan is a highly learned and highly experienced Specialist in Psychiatry with over 36 years of expertise to back him. His humane and compassionate approach towards patients helps him to assess, diagnose and treat psychological problems and behavioural dysfunctions. He plays a major role in improving conditions like depression, social phobias, sleep disorders, chronic tension headaches and addictions. With the backing of extensive experience in many countries under varied scenarios, Dr Abdul Hadi Abbas Rishan is highly skilled in improving the quality of life of his patients. He is also a member of many medical organisations and attends conferences regularly.

Excellence & Experience
Area of excellence
Depression
Chronic Tension Headache
Sleep Disorder
Social Phobia
Bed wetting in Children
Nail Biting 
Premenstrual pain and tension among young females
Level of Experience
Consultant Psychiatrist, Iraq - 1983-2003
Consultant Psychiatrist in Directorate of Health, Kurdistan - 2003-2005
Consultant Addiction Psychiatrist in BAI Outpatient, USA - 2005-2009
Awards & Academics
Academics Details
Addiction Counsellor, USA, City College-CA - 2009
Fellow of American Medical Society, Austria - 1983
Higher Diploma in Psychiatry from University of Vienna - Austria 1981
MB ChB - University of Baghdad - 1970
Out Patient Timings
The outpatient timings at Badr Al Samaa Hospitals have been planned in such a way that your choice of doctor is available whenever you are free.
Sunday
9:00 AM - 1:00 PM
Al Khuwair - Oman
5:00 PM - 9:00 PM
Al Khuwair - Oman
Monday
9:00 AM - 1:00 PM
Al Khuwair - Oman
5:00 PM - 9:00 PM
Al Khuwair - Oman
Tuesday
9:00 AM - 1:00 PM
Al Khuwair - Oman
5:00 PM - 9:00 PM
Al Khuwair - Oman
Wednesday
9:00 AM - 1:00 PM
Al Khuwair - Oman
5:00 PM - 9:00 PM
Al Khuwair - Oman
Thursday
9:00 AM - 1:00 PM
Al Khuwair - Oman
5:00 PM - 9:00 PM
Al Khuwair - Oman
Friday
Saturday
9:00 AM - 1:00 PM
Al Khuwair - Oman
5:00 PM - 9:00 PM
Al Khuwair - Oman