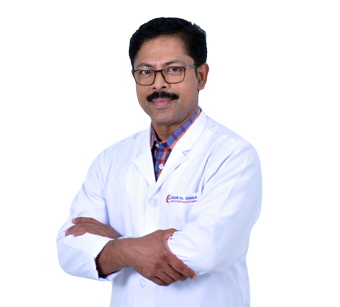 DR Lenoy Cheeran
Specialist Orthopaedic Surgeon
Orthopaedics
MBBS, MS (ORTHO)
25 years of experience
Al Khuwair (Oman)
About DR Lenoy Cheeran
Dr Lenoy Cheeran is an outstanding Specialist Orthopaedic Surgeon of great repute and has over 24 years of excellent experience to back him. His area of specialty is in hip fractures and trauma surgeries. He is skilled in performing arthroscopic surgeries for shoulder and knee pathologies. He has also performed numerous minimally invasive surgeries for sports injuries, trauma as well as joint replacements. He is also an expert in the management of degenerative diseases, multi-ligament surgeries, ACL and meniscal tears, deformities surgeries, etc. Dr Lenoy Cheeran also believes in keeping himself updated and takes part in conferences regularly.  
Excellence & Experience
Area of excellence
Hip Fractures
Sports surgeries
Arthroscopic procedures for shoulder and knees
Revision Arthroscopic procedures
Cartilage transplant surgeries
Multi-ligament surgeries
Trauma surgeries
Joint replacement procedures for hips, shoulders and knees
Level of Experience
Specialist Orthopaedic surgeon with over 24 years experience
Awards & Academics
Academics Details
MCH (Ortho)
MS (Ortho) - American Institute of Medical Sciences
D (Ortho) - KMC Manipal - 1995
MBBS – JJM Medical College, Davangere, Karnataka, India - 1992
Out Patient Timings
The outpatient timings at Badr Al Samaa Hospitals have been planned in such a way that your choice of doctor is available whenever you are free.
Sunday
9:00 AM - 1:00 PM
Al Khuwair - Oman
4:30 PM - 8:30 PM
Al Khuwair - Oman
Monday
9:00 AM - 1:00 PM
Al Khuwair - Oman
4:30 PM - 8:30 PM
Al Khuwair - Oman
Tuesday
9:00 AM - 1:00 PM
Al Khuwair - Oman
4:30 PM - 8:30 PM
Al Khuwair - Oman
Wednesday
9:00 AM - 1:00 PM
Al Khuwair - Oman
4:30 PM - 8:30 PM
Al Khuwair - Oman
Thursday
9:00 AM - 1:00 PM
Al Khuwair - Oman
4:30 PM - 8:30 PM
Al Khuwair - Oman
Friday
Saturday
9:00 AM - 1:00 PM
Al Khuwair - Oman
4:30 PM - 8:30 PM
Al Khuwair - Oman