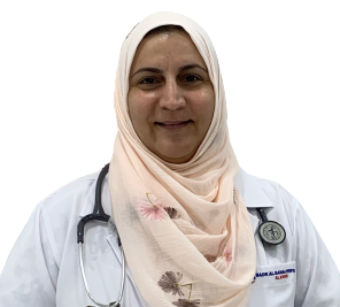 Dr Aida Hameed Majeed Al Bayati
Specialist
Obstetrics & Gynaecology
MBchB, FABOG, MRCOG Part-I
22 years of experience
Al Khuwair (Oman)
About Dr Aida Hameed Majeed Al Bayati
Dr Aida Hameed Majeed Al Bayati is an outstanding Specialist in Obstetrics and Gynaecology, having 19 years of excellent experience to back her. She is highly skilled in managing high risk pregnancies with complications of blood disorders, diabetes, hypertension and history of recurrent miscarriages. She is also interested in infertility treatments and associated problems of polycystic ovaries, endometriosis and family planning devices. Dr Aida Hameed Majeed Al Bayati is an expert in obstetric and gynaecological surgeries too including caesarean section, hysterectomies, perineal repairs, colposcopy, myomectomy, ovarian cystectomy, etc. She attends to large volume OPD clinics admirably and manages normal and assisted labours and provides painless labour deliveries too.

Excellence & Experience
Area of excellence
Management of high risk pregnancies
Hydratidiform mole pregnancy evacuation
Hysterectomy
Ectopic Pregnancy
Ovarian Cystectomy
Myomectomy
Perineal repairs (Colporraphy)
Colposcopy
Cervical Cryotherapy
Hysterosalpingogram (HSG)
Convential Ultrasonography
Level of Experience
Infertility management 
Polycystic ovary
Endometriosis
Caesarean Section
Circlage
Awards & Academics
Academics Details
MBChB (Bachelor Degree, Iraq) - 2000
Fellowship of Arabic Board in Obstetrics and Gynaecology (Doctorate degree)
MRCOG Part 1 (London)
Out Patient Timings
The outpatient timings at Badr Al Samaa Hospitals have been planned in such a way that your choice of doctor is available whenever you are free.
Sunday
9:00 AM - 1:00 PM
Al Khuwair - Oman
5:00 PM - 9:00 PM
Al Khuwair - Oman
Monday
9:00 AM - 1:00 PM
Al Khuwair - Oman
5:00 PM - 9:00 PM
Al Khuwair - Oman
Tuesday
9:00 AM - 1:00 PM
Al Khuwair - Oman
5:00 PM - 9:00 PM
Al Khuwair - Oman
Wednesday
9:00 AM - 1:00 PM
Al Khuwair - Oman
5:00 PM - 9:00 PM
Al Khuwair - Oman
Thursday
9:00 AM - 1:00 PM
Al Khuwair - Oman
5:00 PM - 9:00 PM
Al Khuwair - Oman
Friday
Saturday
9:00 AM - 1:00 PM
Al Khuwair - Oman
5:00 PM - 9:00 PM
Al Khuwair - Oman