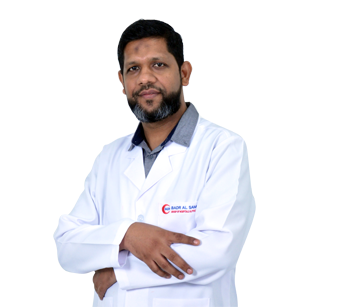 Dr Sayed Fazlur Rahman
Specialist Dental Surgeon
Dentistry
BDS, MS. LASER (AUSTRIA) DENTISTRY
16 years of experience
Al Khuwair (Oman)
About Dr Sayed Fazlur Rahman
Dr Sayed Fazlur Rahman is a specialist Laser Dental Surgeon with vast experience spanning 13 years and is an expert in treating the most complicated cases in the field of Dentistry. He is highly skilled in treating patients with the latest Laser Dental Procedures. He is excellent at performing painless Root Canal Treatment, Re-Root Canal Treatment and Full mouth Rehabilitation treatment. Apart from the basic dental procedures he has been regularly performing advanced Laser Surgical procedures with minimum post-operative discomfort and complications. He believes in practising high quality conservative dentistry with the latest materials and techniques.

Excellence & Experience
Area of excellence
Laser Dental Treatment – Laser Cosmetic, Periodontal, Surgical treatment etc.
Endodontic Treatment- Rotary RCT, Re – RCT, single sitting RCT, 3rd Molar RCT.
Aesthetic Treatment- Metal free crown, Zirconia Crown, Smile design, Teeth Whitening
Full Mouth Rehabilitation
Post and Core Build-up with prosthesis.
Level of Experience
Dr Sayed Fazlur Rahman has worked in various Hospitals and run his own private clinic in Mumbai where he has practiced advanced and the latest dental treatment procedures.
Joined Badr Al Samaa Group of Hospitals and Medical Centres in 2011
Awards & Academics
Academics Details
BDS - Pune, Maharashtra, India
MS (Laser Dentistry) -Austria
MBA (Hospital Management and Clinical Research) - India
Out Patient Timings
The outpatient timings at Badr Al Samaa Hospitals have been planned in such a way that your choice of doctor is available whenever you are free.
Sunday
9:00 AM - 1:00 PM
Al Khuwair - Oman
5:00 PM - 9:00 PM
Al Khuwair - Oman
Monday
9:00 AM - 1:00 PM
Al Khuwair - Oman
5:00 PM - 9:00 PM
Al Khuwair - Oman
Tuesday
9:00 AM - 1:00 PM
Al Khuwair - Oman
5:00 PM - 9:00 PM
Al Khuwair - Oman
Wednesday
9:00 AM - 1:00 PM
Al Khuwair - Oman
5:00 PM - 9:00 PM
Al Khuwair - Oman
Thursday
9:00 AM - 1:00 PM
Al Khuwair - Oman
5:00 PM - 9:00 PM
Al Khuwair - Oman
Friday
Saturday
9:00 AM - 1:00 PM
Al Khuwair - Oman
5:00 PM - 9:00 PM
Al Khuwair - Oman