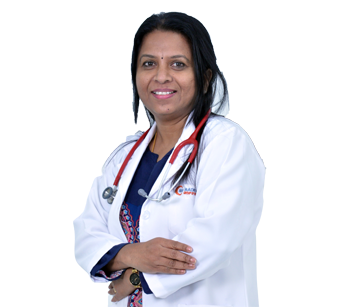 DR Sheeja Premjith
Specialist Paediatrician
Paediatrics & Neonatology
MBBS, DCH
18 years of experience
Al Khuwair (Oman)
About DR Sheeja Premjith
Dr Sheeja Premjith is a highly enthusiastic and talented Specialist Paediatrician with over 15 years of experience in treating childhood diseases in the Middle East. She is highly skilled in managing all types of paediatric emergencies including acute infections, allergies and trauma. She is exceptionally dedicated in providing medical care for her young patients, right from the neonatal stage through to adolescence. She is excellent in her diagnostic skills and committed to resuscitation and neonatal care of babies in the nursery. Dr Sheeja Premjith is also very passionate about education the parents of her young patients on age-appropriate care.

Excellence & Experience
Area of excellence
Asthma & allergies
Nutrition & growth
Management of childhood infections
Behavioural & developmental paediatrics
Newborn resuscitation and care
Level of Experience
Worked in various prestigious hospitals in India
Currently working in Muscat for the past 15 Years
Awards & Academics
Academics Details
DNB training (Paediatrics) – Medical College, Kozhikode, India
DCH - Royal College of Physicians, Glasgow, UK
MBBS - Medical College, Kozhikode, Kerala, India
Out Patient Timings
The outpatient timings at Badr Al Samaa Hospitals have been planned in such a way that your choice of doctor is available whenever you are free.
Sunday
8:30 PM - 12:30 PM
Al Khuwair - Oman
5:30 PM - 9:30 PM
Al Khuwair - Oman
Monday
8:30 AM - 12:30 PM
Al Khuwair - Oman
5:30 PM - 9:30 PM
Al Khuwair - Oman
Tuesday
8:30 AM - 12:30 PM
Al Khuwair - Oman
5:30 PM - 9:30 PM
Al Khuwair - Oman
Wednesday
8:30 AM - 12:30 PM
Al Khuwair - Oman
5:30 PM - 9:30 PM
Al Khuwair - Oman
Thursday
8:30 PM - 12:30 PM
Al Khuwair - Oman
5:30 PM - 9:30 PM
Al Khuwair - Oman
Friday
8:30 PM - 12:30 PM
Al Khuwair - Oman
5:30 PM - 9:30 PM
Al Khuwair - Oman
Saturday