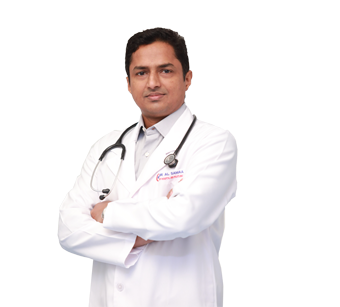 DR Vinod Rajan
Specialist Surgeon
General & Laparoscopic Surgery
MBBS, MS, FMAS
21 years of experience
Al Khuwair (Oman)
About DR Vinod Rajan
Dr Vinod Rajan is a highly skilled Specialist General Surgeon with over 18 years of outstanding clinical experience. He has worked and trained in some of the best institutions in India, gaining remarkable expertise along the way. He is also very committed towards his patients and updates his surgical skills regularly. His interests are in gastrointestinal surgery and he uses his excellent minimal access laparoscopic surgical techniques wherever possible. Dr Vinod Rajan is an expert in both major and minor surgeries across the different fields in medicine including oncology. 

Excellence & Experience
Area of excellence
Laparoscopic procedures – Appendectomy, cholecystectomy and inguinal hernia
Level of Experience
Haemorrhoidectomy
Anal fissure and fistula
Pilonidal sinus
Surgery for breast lumps
Gynecomastia
Thyroid surgery
Specialist Surgeon - Badr Al Samaa Group of Hospitals for last 8 years
Assistant Professor- Dept of General Surgery – PIMS Thiruvalla, Kerala
Lakeshore hospital – Ernakulam, Kerala
Aditya Birla Memorial Hospital- Pune
CHRI (Cancer Hospital & Research Institute) Gwalior, MP
Has served in various hospitals in Dept of Surgical Oncology
Awards & Academics
Academics Details
DMAS – Diploma in Minimal access surgery
FIAGES- Fellowship of Indian Association of Gastrointestinal Endosurgeon
FMAS– Fellowship in Minimal access surgery
MBBS, MS (General Surgery)
Out Patient Timings
The outpatient timings at Badr Al Samaa Hospitals have been planned in such a way that your choice of doctor is available whenever you are free.
Sunday
9:30 AM - 1:30 PM
Al Khuwair - Oman
5:00 PM - 9:00 PM
Al Khuwair - Oman
Monday
9:30 AM - 1:30 PM
Al Khuwair - Oman
5:00 PM - 9:00 PM
Al Khuwair - Oman
Tuesday
9:30 AM - 1:30 PM
Al Khuwair - Oman
5:00 PM - 9:00 PM
Al Khuwair - Oman
Wednesday
9:30 AM - 1:30 PM
Al Khuwair - Oman
5:00 PM - 9:00 PM
Al Khuwair - Oman
Thursday
9:30 AM - 1:30 PM
Al Khuwair - Oman
5:00 PM - 9:00 PM
Al Khuwair - Oman
Friday
Saturday
9:30 AM - 1:30 PM
Al Khuwair - Oman
5:00 PM - 9:00 PM
Al Khuwair - Oman